Gandhi, Kaushal S., McKay, Fiona C., Danoy, Patrick, Stewart, Graeme J., Broadley, Simon, Moscato, Pablo, Lechner-Scott, Jeannette, Scott, Rodney J., Booth, David R., ANZgene Multiple Sclerosis Genetics Consortium, Cox, Mathew, Riveros, Carlos, Armstrong, Nicola, Heard, Robert N., Vucic, Steve, Williams, David W., Stankovich, Jim, Brown, Matthhew. Oxford University Press; 2010. The multiple sclerosis whole blood mRNA transcriptome and genetic associations indicate dysregulation of specific T cell pathways in pathogenesis.
Lopez, Joseph A., Houston, Samuel D., Denkova, Martina, Lechner-Scott, Jeannette, van der Walt, Anneke, Barnett, Michael H., Reddel, Stephen W., Broadley, Simon, Ramanathan, Sudarshini, Dale, Russel C., Brown, David A., Brilot, Fabienne, Tea, Fiona, Merheb, Vera, Lee, Fiona X. Z., Smith, Sandy, McDonald, David, Zou, Alicia, Liyanage, Ganesha, Pilli, Deepti. Oxford University Press; 2022. Validation of a Flow Cytometry Live Cell-Based Assay to Detect Myelin Oligodendrocyte Glycoprotein Antibodies for Clinical Diagnostics.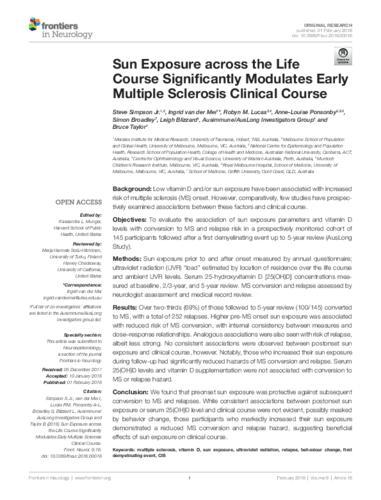 Simpson, Steve, Van Der Mei, Ingrid, Williams, David, Lechner-Scott, Jeanette, Shaw, Cameron, Chapman, Caron, Coulthard, Alan, Pender, Michael P., Valery, Patricia, .,, Lucas, Robyn M., Ponsonby, Anne-Louise, Broadley, Simon, Blizzard, Leigh, Taylor, Bruce, Dear, Keith, Dwyer, Terry, Kilpatrick, Trevor. Frontiers Research Foundation; 2018. Sun exposure across the life course significantly modulates early multiple sclerosis clinical course.